This post has been sponsored in part by Natracare. I received compensation in exchange for this post. All opinions expressed are 100% my own. I am NOT a licensed medical professional. Always consult with a qualified healthcare professional. For my full disclosure policy click here.
**This post contains affiliate links. For my full disclosure policy click here.
So you've got everything you need for D-day ready to go. Baby's nursery is prepped, bags are packed, freezer meals are cooked, and now you're on day 2 of doing hip rotations on your yoga ball impatiently waiting for baby to show up.
But have you thought about your postpartum recovery?
Your body goes through a lot during pregnancy and childbirth. Regardless of how prepared you are for birth or even how you give birth, your body will be in need of some TLC.
Trust me on that one!
It's important that you're prepared ahead of time so that you have everything you need for a smooth recovery.
This list of natural postpartum care products was actually inspired by my journey as a mom.
Since having my daughter 2 years ago, I've become aware of the harmful effects many conventional products have on our health and environment.
For the last 2 years I've been working on making my household greener and cleaner.🙏
The ultimate list of natural postpartum care products
Before I made the switch to using Natracare products about a year ago, I used conventional pads and tampons.
I was super shocked to find out that the products I used from one brand religiously (*cough* *cough* Always *cough*), were found to contain chemicals linked to cancer and reproductive health issues. (source) 😷😡
Some of the ingredients used in conventional menstrual care products have also been found to be hormone disruptors. It's no wonder millions of women are experiencing issues with fertility nowadays. 😔
Not only are these conventional products horrible for our health, they are terrible for the environment.
Did you know that every year nearly 20 billion pads and tampons are dumped into our landfills? These waste products can take hundreds of years to biodegrade. (source)
After doing some research, I found out about Natracare and never looked back.
Natracare is an award winning, ethical company based in the UK, which has revolutionized the world of feminine hygiene products.
Their products which range from menstrual care to postpartum care products are made from sustainable materials that are 100% plastic free, biodegradable, compostable, and organic.🌿
During your postpartum recovery many things are going to be happening down there. Because your vagina is a gateway to the rest of your body, it's so important that you pay attention to the products that you use.
Sanitary Pads, Liners, & Wipes
Regardless of how you give birth, you're going to have lochia flowing out of you. It's a mixture of blood, tissues, and mucous.
Natracare maternity pads are made of organic cotton and are free of fragrances and dyes.
They're breathable (so it doesn't get extra moist and icky down there) and super comfortable. Once your postpartum bleeding decreases, you can switch to their Light and Dry natural pads.
Another great item from that you should include as part as your recovery kit, are these Organic Intimate Cotton Wipes.
Girl the fluids don't stop immediately after the birth. 😫
They'll continue flowing out of you for weeks (around 6… sometimes even longer) and these wipes are absolute must-haves that will make it so easy for you to freshen up when you need to.
Perineal Spray, Perineal Balm, and Sitz Bath Herbs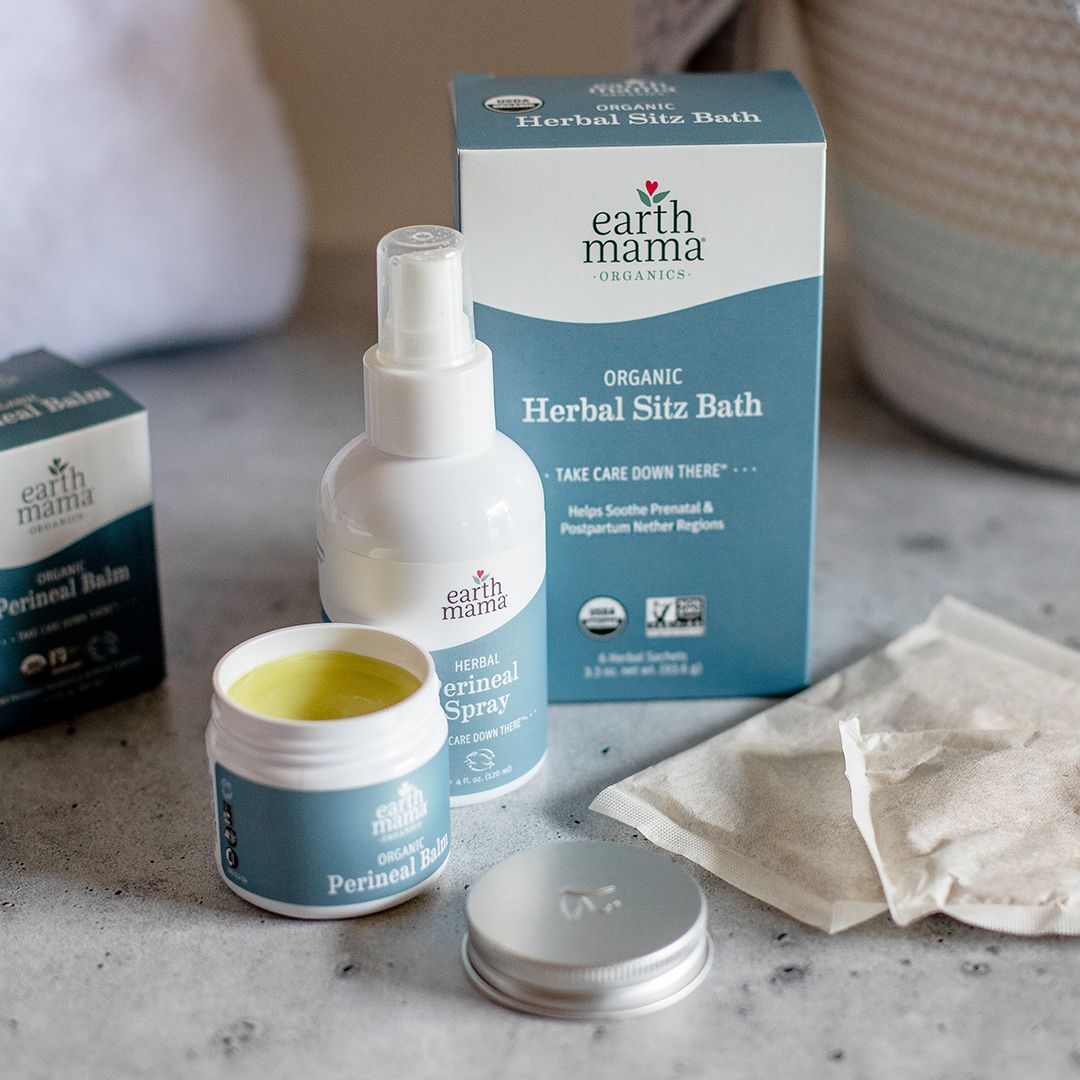 Your lady bits will thank you for this trio of natural postpartum care products from the heavens above. The Perineal Balm, Herbal Sitz Bath, and Herbal Perineal Spray are all made with clean, organic ingredients.
They are specifically meant to soothe and promote healing "down there".
AfterEase Herbal Tincture
AfterEase is a fantastic natural alternative to the common painkillers mamas often take after birth. This powerful herbal tincture help relieve afterbirth pains.
A definite must-have as postpartum uterine cramping can be very painful (even more if you breastfeed!)
Fridet Mom Washer
The ergonomic design and maneuverable neck of the Fridet peri bottle makes it a lot more practical than the one you get from the hospital. It's be especially helpful for those first postpartum trips to the bathroom.
Red Raspberry Leaf Tea
You know how hard I go for this tea right? Not only are there great benefits to drinking red raspberry leaf tea during pregnancy, there are great benefits to drinking it postpartum.
It's vitamin and nutrient rich. It's rich tannins which are an astringent by nature, and can help tone the uterus after birth.
Red raspberry leaf tea is said to cause the uterus to contract more efficiently.
Your uterus will shrink back to its pre-pregnancy size a lot faster and the bleeding will stop much sooner. This delicious tea also helps balance hormone levels.
Omega-3 Supplement
Studies also show that there is a link between baby blues/PPD and the intake of Omega-3s (source). An omega-3 supplement is essential for postpartum hormone balancing.
It's also has anti-inflammatory properties that help relieve joint pain and stiffness. Also seeing a chiropractor after birth can really help speed up your recovery and get rid of all those aches and pains.
Probiotics
Probiotics encourage healthy gut flora. Your gut health is also to your brain health. Probiotics will help alleviate symptoms of postpartum depression and anxiety.
You can also get probitiocs from other sources such as kefir, kombucha, sauerkraut, and yogurt.
Magnesium Supplement

High progesterone levels during pregnancy will make your bowels super sluggish, which leads to constipation. It may take a couple of days postpartum, for your bowel movements to return back to normal.
If you need some help going to the bathroom, a natural herb based magnesium supplement such as this one will help. Also make sure you get in enough fiber and WATER.
Iron Supplement
Postpartum iron deficiency is actually very common. Not very surprising considering the bleeding that occurs during birth and those first 6 week postpartum.
A deficiency in iron can also leave you feeling exhausted, cranky, and it can cause your hair and nails to become very brittle. Studies have shown that there is a link between anemia and postpartum depression.
This Floradix herbal iron supplement is one that I take everyday as I am iron deficient. It's much better than the pills because it doesn't make me feel sick, neither does it cause constipation.
Padsicles
Padsicles are frozen pads which are often used postpartum to soothe, promote healing, and decrease inflammation.
The most common ingredients used are aloe vera gel, lavender essential oil and witch hazel. You can also diffuse the lavender EO to help create a calm and soothing atmosphere.
I added calendula to this list due to it's soothing and healing properties. Studies have shown the aloe vera and calendula considerably increases the speed of episiotomy healing.
Making padsicles is super easy. Cover the entire pad in aloe vera gel, add a couple (2-3) of drops of the lavender EO and calendual oils (about 1 tsp.) to the witch hazel. This will help make the application easier.
Spray the pad with the witch hazel & oil mixture. Do this to all the pads and then put them all into individual freezer bags and freeze. That's it!
I hope you found this list to be helpful!
Additional Resources
– Postpartum Blues or Postpartum Depression?
– Online course for pumping mamas
– Online course for breastfeeding mamas
Until next time,
Fill out the form below to join my EXCLUSIVE email list. By signing up, you'll receive helpful tips, and get notified every time a new blog post goes up. Subscribe now so you don't miss out!